JAZZ A-T6WFDW-TP (LCD+BL+RTP Graphic COG 128×64)
$14.16CONTACT FOR VOLUME PRICING
Out of stock
JAZZ Monochrome Graphic LCD Module
Diagonal Dimension: 2.7 Inch
Resolution: 128 x 64 pixels
LCD mode: FSTN negative (JAZZ-AC-T)
Polarizer: Transflective
Backlight: White LED (JAZZ-AE-W)
White on Black Background
Connection: FPC
IC Package Type: COG
Touch Panel: Resistive (JAZZ-AT)
Pricing table
| Quantity | Unit Price |
| --- | --- |
| 25-49 | $12.55 |
| 50-99 | $10.93 |
| 100-149 | $10.16 |
| 150-199 | $9.57 |
| 200- | $8.97 |
Contact us for larger volume orders and any other enquiries.
Email when stock available
JAZZ-A-T6WFDW-TP is a combination of JAZZ-AC-T (LCD in FSTN negative mode), JAZZ-AE-W (White LED backlight) and JAZZ-AT (Resistive Touch Panel). This JAZZ LCD is a 2.7″ monochrome 128×64 dot matrix, COG (Chip on Glass) Graphic LCD Module in FSTN negative LCD Mode with Wide Temperature Range (Operating Temp: -20°C to 70°C, Storage Temp: -30°C to 80°C), and White LED Backlight. It has a six O'clock viewing direction and a transflective polarizer recommended for applications that will be used both indoor and outdoor. This product is assembled chip on glass with 1/65 Duty and 1/9 Bias. This LCD uses Controller IC ST7567 or equivalent with an option to choose between serial interface (4-line SPI) and parallel interface (6800 or 8080). This is an ROHS compliant product manufactured with ISO standards and procedures.
The highest quality product at the lowest price.
LCD in FSTN Negative Mode White LED Backlight Resistive Touch Panel
6 o'clock Viewing Direction
Operating Temp: -20°C to 70°C
Storage Temp: -30°C to 80°C
Transflective Polarizer
COG Type (Chip on Glass)
ROHS Compliant
| | |
| --- | --- |
| Model/Series Name | JAZZ-A-T6WFDW-TP |
| LCD Dots/ Resolution | 128 x 64 |
| LCD Mode | FSTN Negative |
| Polarizer Type | Transflective |
| Diagonal Dimension (inches) | 2.7 |
| Module Size WxH max(mm) | 71.20 x 48.50 |
| View Area WxH (mm) | 65.50 x 37.20 |
| Dot Size WxH (mm) | 0.49 x 0.45 |
| Dot Pitch WxH (mm) | 0.52 x 0.48 |
| Backlight | White |
| Controller | ST7567 |
| LCD Assembly | COG (Chip on Glass) |
| Touch Panel Type | 4-Wire Resistive Touch Panel |
---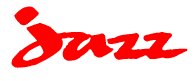 JAZZ-A Modules are one of our best selling graphic LCD module offerings. It is widely known in the LCD market because it is available in many varieties which gives it a lot of versatility to formulate any LCD mode and back-light color combination you can think of while having very competitive pricing. This Line also offers these combinations without having to modify your PCB or software design.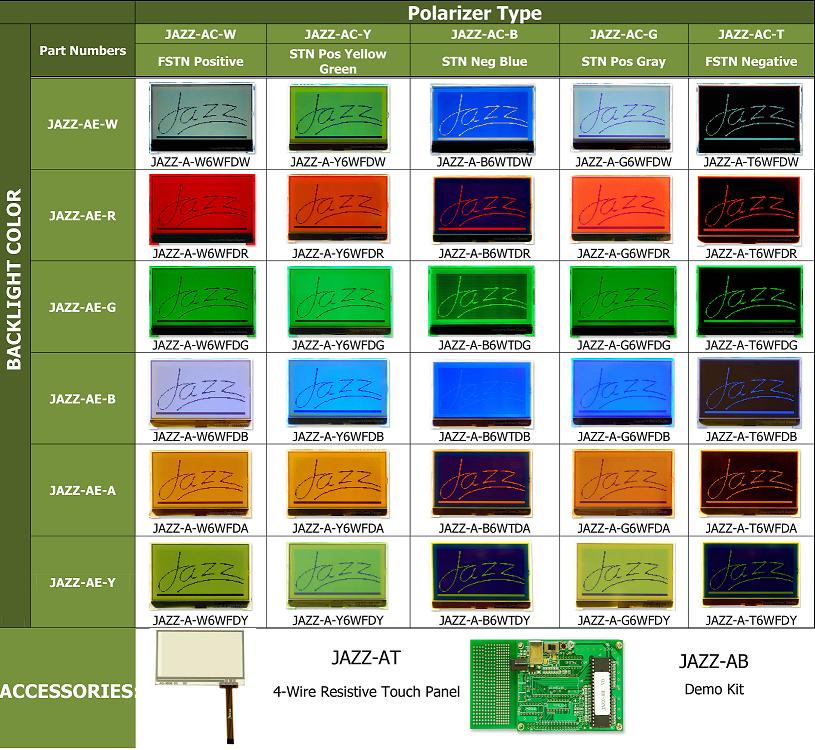 | | |
| --- | --- |
| Weight | 0.75 lbs |
| Dimensions | 48.50 × 71.20 × 6.20 mm |
| backlightcolor | |
| diagonal-size | |
| displaymode | |
| displaytype | |
| polarizertype | |
| resolution | |
| touchpanel | |
| viewingdirection | |
Related products
JAZZ Monochrome Graphic LCD Module
Diagonal Dimension: 2.7 Inch
Resolution: 128 x 64 pixels
LCD mode: FSTN negative (JAZZ-AC-T)
Polarizer: Transflective
Backlight: Amber LED (JAZZ-AE-A)
Amber on Black Background
Connection: FPC
IC Package Type: COG
Touch Panel: None